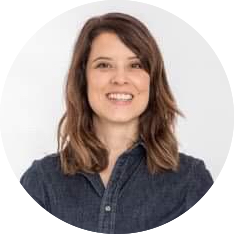 Seeing her book on sale at The British History Museum was better than she could ever have imagined. So, if you've ever thought about combining history blogging and creating books here's a Q&A with someone who made it happen.
Frances Durkin, is a blogger making history accessible and engaging to all through 'The Historian Next Door' and co-creator of children's book series 'The Histronauts.'
Q1: What inspired you to call your history blog "The Historian Next Door"?
"It was originally called Historia as a nod to my postgraduate roots.
My PhD is in medieval history and I like the idea of using a Latin word which connected to my research. But, just before I launched the blog I realised that it wasn't what I wanted to convey to my target audience.
I want the blog to be an approachable place for homework help and ideas for places to visit with grandparents. I want The Historian Next Door to sound like the welcoming, local expert on something you'd like to know more about.
My hope is that it's a completely unintimidating and friendly blog full of information and resources."
Q2: You mention you want to use your blog to "make history accessible to all", why is that important to you?
"My intentions towards 'access' reflects my idea that much of history can be closed off or alienating to people who should be able to engage with it.
It could be that someone thinks that they don't like history and I want to give them the opportunity to discover it in new ways. It could be that a museum isn't physically accessible for part of its audience (I'm definitely guilty of not realising how difficult it is to get around some of our most famous museums in a wheelchair until I had to do it with a buggy) and I want to challenge that.
We've seen a recent campaign in the UK to put the history of colonialism and slavery back into our school curriculum. It's really important that we teach this aspect of our history to our children. To my disgust the government completely rejected the proposed change but the work of organisations such as The Black Curriculum are making it possible to transform from within. I want to use the blog to shout about how everyone can support them. Background, race and class are all factors which exclude audiences and I want to use this platform to welcome anybody who might be even a little bit interested."
In full disclosure this post contains affiliate links. I only ever recommend products I use myself and/or believe will be of value. For more view my policy page.
Q3: Where did the idea for The Histronauts come from and have you always wanted to produce children's books?
"The books are a collaboration between me and co-creator Grace Cooke.
A few years ago I was putting together history workshops for schools. Grace is an amazing illustrator who was working with me on the visuals for my education packs. We thought it might be fun to do something with characters and a story so we worked on a basic idea.
I remember coming up with the name The Histronauts while I was cleaning my teeth one night and frantically scrolling through the internet to see if anyone else was using it. We ended up taking the idea to The London Book Fair and finished the day with the contact details for the wonderful company who now publish our work.
And I have absolutely always wanted to create books for children but I never actually believed that I would.
Children are the best audience because they're so engaged and critical but are always delighted to find out new things. I love our workshops and book signings because you get to interact directly with such enthusiastic youngsters."
If you'd like to discover the Histronauts click here.
Q4: People say writing a book is one of the hardest things you can do. How did it feel seeing your first book ready to buy?
"Oh, it was amazing! Being able to physically hold the book that you've spent so long working on and to share it and see how other people respond to it is incredible. And actually seeing it in bookshops is even better.
I used to work in central London close to Foyles on Charing Cross Road and a brilliant comic book shop called GOSH on Berwick Street. They were basically my local bookshops so seeing The Histronauts in both of those places was a dream come true.
The only thing that was better was seeing them on sale in The British Museum and the Jorvik Viking Centre; that was beyond anything I'd ever imagined."
Q5: Now, having published a few books, what top three pieces of advice would you give to anyone thinking about doing the same?
"Firstly, your editor is your friend. Get other people to critique your work. Don't be precious about what you've written when a fresh eye can often make it better. Be prepared to listen to what others tell you and make the changes when it's right to do so. That doesn't mean that you shouldn't fight for something you love but you should be open to listening to others.
Secondly, read as widely as possible. Don't stick to the same types of books. Listen to different voices and don't be put off by something which isn't what you'd usually read. I'm a huge fan of the quality and variety of contemporary children's books. Frances Hardinge, Sophie Anderson, Catherine Johnson, Robin Stevens, Tom Palmer and Philip Reeve are all brilliant. I was really lucky to be able to embrace book clubs during lockdown so I've had the chance to read a lot of things this year that I wouldn't normally choose for myself.
Finally, don't be afraid to ask questions. There are amazing organisations and groups which offer help and training to anyone who wants to write. I'm a member of The Society of Authors and The Society of Children's Book Writer's and Illustrators. Whether you want to write historical fiction, romance or science fiction there are groups which offer support and resources which will help you."
Q6: You're clearly someone used to juggling a lot. Any tips or tools for fitting history blogging into a busy life?
(Laughs) "I'm not sure I'm particularly good at the juggling I do. I love a list. And I try really hard to prioritise things in the order in which they need to be done. I also always intend to finish one thing before I start another but I'm really bad at that because I get distracted by the next shiny project I want to move on to.
I think doing what you enjoy is crucial. Otherwise you put off the things you don't want to do and they never get finished. And don't be too hard on yourself if you miss a week on the blog because you were doing other things. Just do the best you can with the things you love."
Q7: What are your blogging and history wishlist plans for the future?
"When I started the blog back in the spring I had grand plans to feature events and places to visit. So many heritage sites do amazing work that is geared towards children of all ages. But this is 2020. I was trying to put blogs together which would help people decide where to go over Easter and then lockdown happened.
So my wish list is to get out more and blog about our wonderful castles and museums. I want to support so many venues which are facing a devastating loss of income due to the pandemic."
Q8: Where can people best connect with you?
"The blog is historiannextdoor.co.uk and you can reach me directly through the 'Contact' page or you can find me on Facebook and Instagram @historiannextdoor."
There are three Histronauts books at the moment and they are available from all good booksellers but I like to nudge people towards their local independent bookshops if they have one.
Grace and I can also be found doing events in schools, museums, bookshops and at book festivals (when it's possible to do so).