I had a great response from bloggers asking to be in the history blog directory. So, a huge thank you to everyone who got in touch. Below, are fifteen superb history blogs to get you started, but first I want to give you some ideas about how to use and benefit from the directory? And, how to get on it if you're not already.
How to get the most from your history blog directory
The deeper I thought about it the more benefits and opportunities for connections I came up with. Here's a few for you to consider:
It's a bit of promotion on an external site
You get a new backlink to help your site's Search Engine Optimisation (SEO)
Stuck for post or design ideas? Then have a look around and learn (don't copy : ) from fellow history bloggers
It's a list of places to pitch a guest post to
You can find new bloggers for your podcast
You'll find new history posts to read, comment on and share on a variety of topics.
So, enjoy your little taster of what's waiting over at the History Blog Directory and if you're not already on it here's what you need to do…
Click here to add your history blog or drop me the name of your blog in the comments. I'd love to add you on.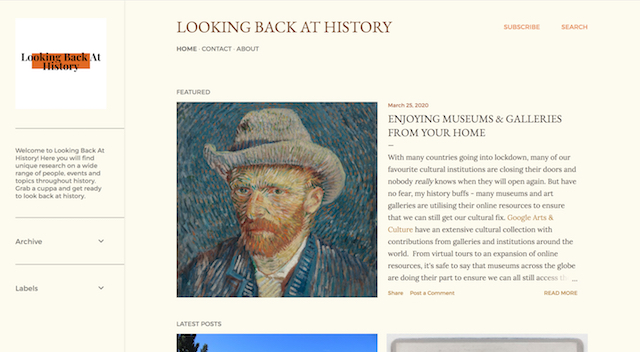 Welcome to Looking Back At History. My name is Amy-Lee Haynes. I studied at History at the University of the West of England and I'm looking to continue my love for history and research whilst I am traveling the world. Here you will find blog posts featuring unique research, interesting finds and all things historical. Grab yourself a cup of tea and enjoy looking back at history.