Email marketing is about making connections and generating leads. Now, maybe this sounds a bit corporate, technical, pricey and dull. So, I want you to imagine this scenario for your history blog. Ready?
You've created a superbly useful free resource linked to your history blog's niche
You've designed a beautiful branded form to sit on your blog where readers can effortlessly sign-up to get it
You've directed them to a thank you page for more and sent your first ' hello' email
You've started a list of 'real' like-minded history lovers who want to support you, chat as friends and potentially become customers.
Sounds good doesn't it. Now, let's take that imaginary scenario and make it real in ONE HOUR. Oh, yeah!
And, let's create it FOR FREE.
Ready to grow your history blog by delving into email marketing? Let's go.
---
In full disclosure this post contains affiliate links. I only ever recommend products I use myself and believe will be of value. For more view my policy page. In this post I'm showing email marketing tool 'ConvertKit'.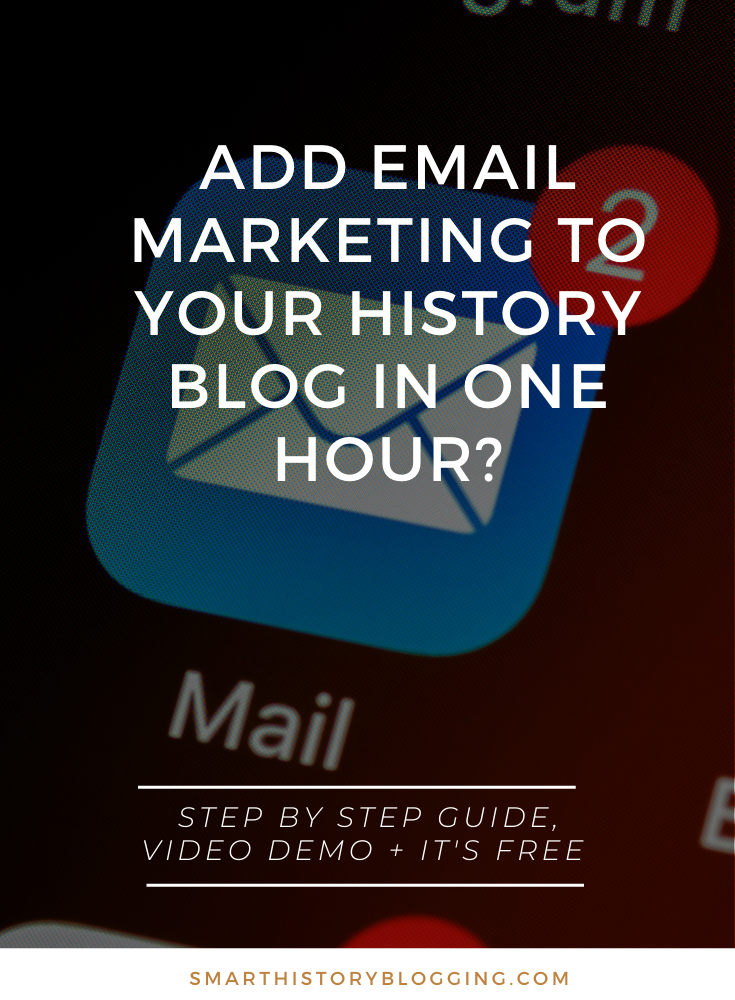 ---
STEP ONE – Decide on Your Free Resource for Subscribers
Please do not get hung up on this. Just make sure your idea covers three things 1) You're asking someone to give you their email address so make sure it is valuable and someone would say "yeah, I want this" 2) It is relevant to your history niche. 3) It is as 'evergreen' as possible so you don't have to update it too often.
Here are some ideas you could adapt for your history blog:
Easy recipes for Medieval cooking
25 ideas for engaging IG posts about history
How to run a history-related giveaway
A recommended list of history books in your niche
10 best history themed buys for gamers (and 5 to avoid)
25 historic places to take young children for free
How and where to see the best TV and Films in your niche
15 best virtual history tours
Extra podcast episodes
Exclusive videos
---
STEP TWO – Sign up to an Email Marketing Provider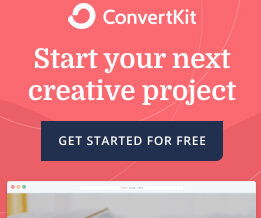 I am showing ConvertKit. I use it. It's simple and you can do everything I'm describing in their free plan. There are other email providers out there like MailChimp and ActiveCampaign.
---
STEP THREE – Create Your Free Resource.
You do not need a professional designer. You can create high-quality branded designs in Canva, Adobe or hidden webpages in your blog.
Just make sure it delivers on what you have promised is clear and easy to follow. The quality and value of the content to your reader matters more than glossy design.
Here are some format examples you might like to try.
Quick ones…
Workbook
Cheat-sheet
Swipe-file
Checklist
Audio file
Exclusive content on your site.
Takes a bit longer…
Resources guide
E-book
Image library
Demo video
Quiz.
---
STEP FOUR – Design a Form and Upload Your Resource
Now you've got your idea people need to be able to access it. You can do this with a form in your website or a landing page. You can use both, but if you're just starting, I would recommend trying a form first to get used to the process.
An example from Smart History Blogging
Below is an example of the form I created to my ' 5 Smart Ways to Make Money History Blogging' (If you sign-up it will take you through the process we're setting out too : )
There is a demo video at the bottom of this page to walk you through the full process of creating the form, adding your free resource, uploading it into your blog, redirecting people to a thank you page and sending out your email.
---
STEP FIVE – Create a Thank You Page
You can either use the Thank You page template within ConvertKit or I would recommend linking to a page in your own site.
The thank you page may not sound much but it is a huge opportunity. If someone has liked the look of your freebie and taken the time to sign up then they are super-keen and engaged with your blog. So, help them find more by directing someone to more of your great stuff.
Here's what this might look like. On the page, tell them the free resource is on it's way to their inbox but in the meantime perhaps they might want to take a look at this related blog post, embedded YouTube video, podcast episode, course, product or service. You can also ask them to follow you on social media where you post regular content.
But, don't bombard people with too many actions to take, pick the most important for your blog at the time. Nothing is set in stone. If your priorities change or you launch something new just edit your thank you page and direct them somewhere new.
---
STEP SIX – Write Your First 'Hello' Email
When someone completes your form they add in their email address. This is the address where they wish your free resource to be sent to. So, you need to write them an email. This is called the 'incentive email' and is part of creating your form.
Remember, even though this email may go to hundreds of people, imagine you are writing to just one person, a friend.
Keep it simple but encourage subscribers to start a conversation with you. Remember it's an email, so someone can hit reply and boom you're chatting 1-1.
An authentic open question is always good. For example, someone had signed up for a medieval recipes download. In your incentive email, as well as giving them the recipes, ask them "I'd love to know, what's the hardest recipe you've ever attempted?" or, "I'm going to try Ember Day Tarts next – I'm a bit nervous, have you ever made these?"
Here's Your Demo Video
This shows you how to create a catchy styled form to suit your blog's branding in ConvertKit, add it to your blog and write your first email.
---
If you've followed all these steps, congratulations you've just started email marketing! : )
This is just a taster. I wanted to show you what was possible on a free plan.
You can of course upgrade to paid plans. Paid plans allow you to create automated email sequences over several weeks and broadcast emails so you can contact your subscribes with updates, offers and launches. Here's a link if you're interested in adding these extra features.
I'd love to know about the wonderful forms and resources your create. Drop a link in the comments. And, if you have any questions get in touch.