If you have wanted to set up a history blog for a while but didn't really know how to do it, then you'll love what I'm about to tell you.
Here on Smart History Blogging, I've added a new mini-course which shows you step-by-step how to beautifully set up a history blog from scratch using WordPress.
What is in the mini-course?
The module "Setting Your History Blog Up For Success" will show you through demo videos and tips how to do all of this:
Get your blog registered and hosted (very cheaply)
Choose and Install a theme
Create easy navigation and design features
Create Pages
Publish Posts
Customise your history blog, and
Add in essential plugins.
Now, I could have just stopped there.
But I haven't.
Why? Because, I know that just as important as teaching you the nuts and bolts of going from post-its to hitting publish on your very own blog is making sure you know how to create a history blog that is inspiring, flexible and will last.
Showing you the smart way to set up your history blog
That's where my 'How to start a history blog smart' method comes in. The steps are shown below. (of course, I couldn't resist using a pyramid : )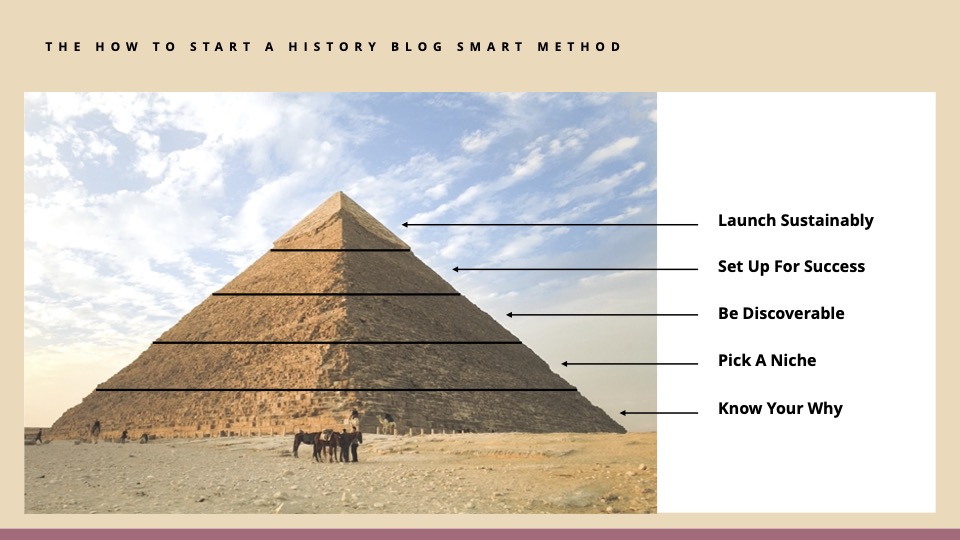 So, in extra modules, we work our way up the levels of that pyramid together,
I help you decide whether a history blog is right for you, how to choose a topic that will sustain, how to make your history blog discoverable from the start and how to prepare for your launch. This is presented in easy-to-digest, actionable videos and worksheets.
I'm really excited to share this course as I know it cuts time and potential mistakes out for any history lover who has wanted to start a history blog. So, if that sounds like you discover 'How to Set Up a History Blog From Scratch' today.