So you've decided to go with WordPress to build your blog. It's a good choice, offering a wide range of themes and plugins that will help you create a great website. But sometimes the choices can be overwhelming, so how do you choose the best WordPress theme that fits your blog?
In full disclosure, this post contains affiliate links. I only ever recommend products or services I personally use or believe will be of value. Click here to view my policy.
Before you begin take some time to ask yourself these questions:
Are the features relevant to you?
What kind of blog am I creating?
Is it transferable?
Is it regularly updated and supported?
Do your readers love it?
Does it look good on all devices?
What do other history bloggers use?
Are the features relevant to you?
Everyone's blog is different. Blogs cover such a wide range of subjects that picking a theme that works around what you're trying to achieve is important. Getting started with a suitable theme that has what you need will save you time later on. But keep in mind as your blog grows you might add new features, you might not have a page dedicated to podcasting now but in a year or two you may expand. As such keep en eye on plugin compatibility with the theme you're using.
So for now ask yourself…
What kind of blog am I creating?
Is it going to be image-heavy? Does it focus on historical locations? Will you be reviewing historical tv series, books or films? Creating top 10 lists? Or a combination of all of these? Knowing what direction you want to go in will help inform your choice of theme. A quick sketch of your homepage and blog page layout can help you decide how your home and blog pages will look and help you match your ideas with a theme.
TIP: If you're using a lot of images on your blog make sure you're adhering to copyright law by checking out this blog post.
If you already have an idea of how your blog will look, or you've seen a website that has a particular design that fits what you're trying to achieve, then you can usually find the theme that site is using in the code: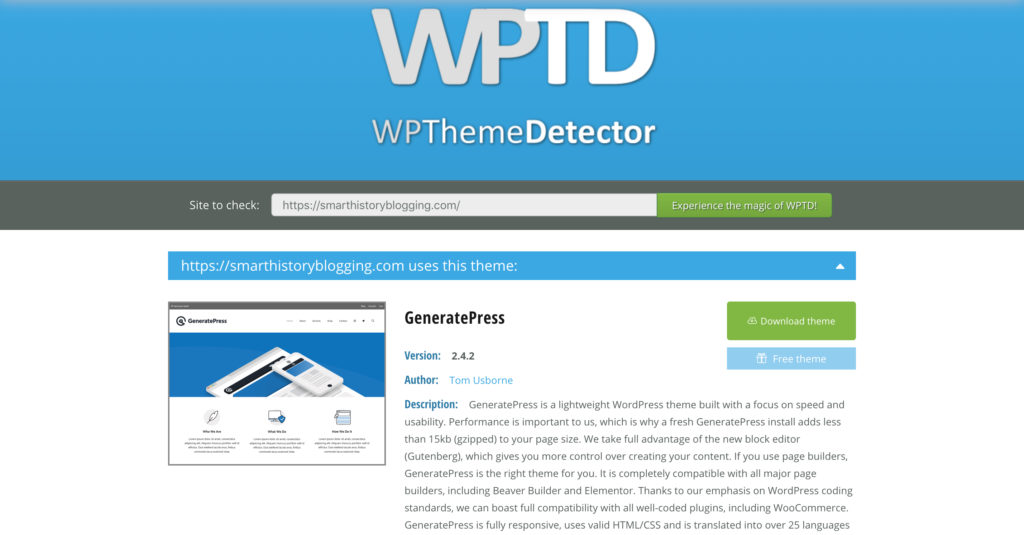 There are a number of these types of websites you can use. Some even tell you the plugins the site is using. However, sometimes the detector might struggle to pick up the theme, or can't analyse the website. If this happens there's a workaround where you can view the source code directly to see the theme.
To find it you need to right click on the webpage and go to View Page Source.
What appears is the HTML coding for the website. Though it might look a bit overwhelming the information you're looking for is hidden in there somewhere.
To make finding it easier hold CMD and tap F. This activates the text search box. Type in Stylesheet and those sections of the code will be highlighted for you to see. Within this information is the theme name. In our case it's GeneratePress.
Watch the video below to see how it's done.
Is it transferable?
Simply put do the features in your theme exist on alternative themes? Are you able to change to a different theme without having to make many changes to your design? Some themes may become monetised if they're successful or they may be pulled which means transferring to a new theme. You might even fancy a change and want a whole new look for your site. If this happens you'll save yourself a lot of time and effort if it's easy to transfer over. So try not to pick a theme that's bloated with too much extra 'stuff.'
Simple is often best. Don't try to go all out and include a hundred different features, keep it to four or five main ones. Build slowly and add things when you have the time to thoroughly test them. Overly complicated sites are slower to load and stressful for readers. Most want a streamlined experience with the content they're after easily searchable and available.
Is it regularly updated and supported?
Do the developers provide any update and support for the theme? Though this is normally a feature of paid-for premium themes some developers will also provide help and support and updates for their free themes. Though this doesn't completely rule out you using the theme just be aware that if there are issues you encounter or broken features there won't be developer support to help you fix it. Premium themes, on the other hand, are more likely to be consistently updated and improved. We recommend a one-time payment over a subscription theme.
Do your readers love it?
Find some friends or family to help you go through your website with you. Do they find it easy to navigate? Is there some elements that are confusing or unnecessary? If the theme is causing problems for your readers then look into other more streamlined options. There's also nothing wrong with creating a simple feedback form to gather information from your readers. If they're struggling to find something or are unsure how a feature on your site works then you'll be able to work on improving their experience.
Does it look good on all devices?
Responsiveness is vital: 3.5 billion people have a smartphone worldwide. That's 45.04% of the population. We're using our phones now more than ever to get online and browse the web. Your site needs to work with desktop computers, tablets, and phones. WordPress themes are more often than not optimised for mobile, but when you've chosen a theme double-check to make sure it's working correctly on other devices.
What do other history bloggers use?
Have a look at other history blogs to see how they've laid out there website. How are they displaying their social media? How many images are they using? What pages do they have on their navigation tab? Also take a look at if they're missing something you feel might work well on your blog. Sometimes by identifying the blogging trends, you can adapt them to offer more to your readers.
But don't be disheartened if other history bloggers have all singing all dancing blogs with a plethora of tools, hundreds of curated blog posts and a weekly podcast series. They also started with a blank screen after all. The satisfaction you'll feel for building your blog will outweigh those 'not good enough' feelings in the end.
Final Thoughts
Sometimes it's the devil you know.
With a catalogue of themes as large as the one on WordPress it's easy to feel overwhelmed and end up in the rabbit hole of theme choices. When you first install WordPress you'll be presented with a handful of theme options pre-installed. These are a good base to get started with. Though they might not appear to be very exciting they're a great choice to help you get started on your history blog. Give yourself some time to look at the options, play around with the themes and plugins WordPress has to offer. It can be a bit of a learning curve coming into WordPress as a newbie but when you pick it up you'll be able to create that kickass history blog you've always wanted.