When thinking about what to write, of course, you will have your pillar topics (you know those that are the cornerstone of your blog's niche), but you should also lean into these 6 types of history blog posts which always seem to get noticed (certainly by me ; ) as they're great headliners and work well on social media. Here goes…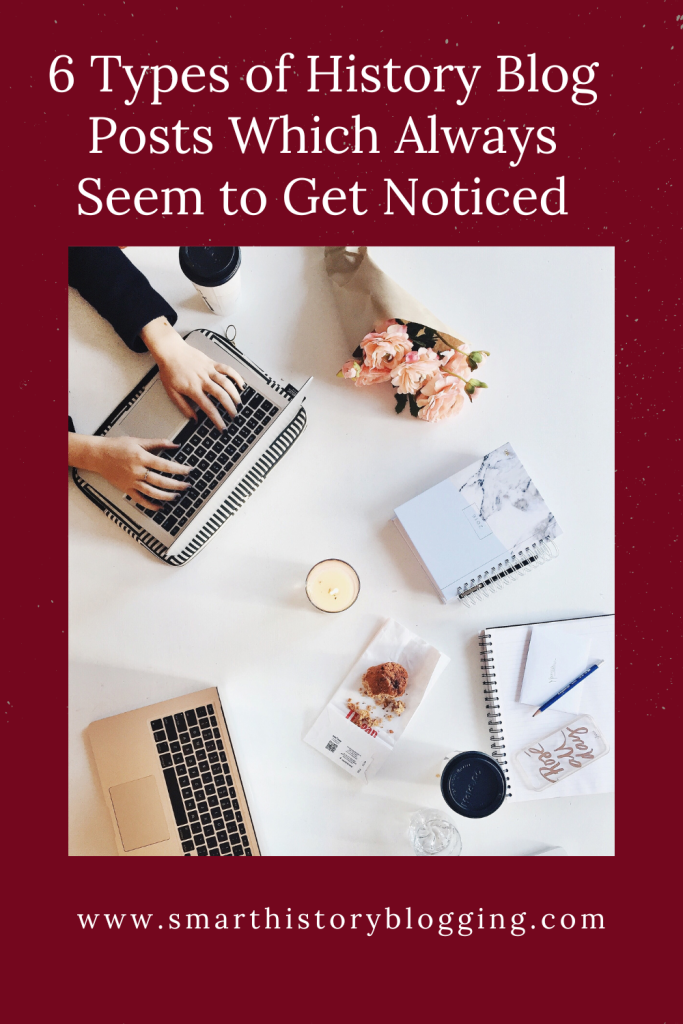 TV and Film Reviews
Whether it's what's coming up next month, next season, or next year, these types of posts will get noticed. I find it hard to keep track of all the different dramas, films, and series, especially which platform they're on (usually the one I don't have) You can become the go-to person for what's coming up or for what you thought about them. Spin-offs on this theme are showcasing inaccuracies, clearly labeled spoiler posts, reviews of what you thought, and comparison pieces with other works based on the same person or genre.
Arguing a Popular Point of View
What's your theory on who shot JFK, what happened to the Princes in the Tower, whether Robert Dudley murdered his wife or whether Prince Harry is truth-telling or deluded. Challenge the status quo or weigh up the evidence in an imaginative way and release your post maybe when the topic has gone hot again.
Evergreen Topics
I admit that some of these suggestions will have a shelf-life. Like "The top 5 can't miss history dramas for Christmas 2022′, although you could watch them on iPlayer would you click on this link in 2023? Probably not. So, the holy grail of history blog posts is to combine a useful, thought-provoking, emotive, or catchy post topic that will be attractive to click through or share for months or even years to come. For example, one of my most popular posts is this one:
35 ideas for your history blog posts
Take a few minutes to explore what yours might be then write it?
Q&A's or interviews with interesting people
Some names, if you're lucky enough to get them, will carry the post on their own. But, ask yourself this. Have you ever clicked on a podcast episode just because of the title alone? All the episode titles below are interviews but they don't mention the interviewee in the headline. The trick is to draw people in with the content,
The Resistance Fighter who survived three concentration camps
Inside the JFK White House
Birdwatching: How Four Prisoners of War Survived Captivity
I Want to be Queen
It is also an option to combine both:
The Secret Codes of 16th-Century Women with Vanessa Braganza
Toilets, Underpants, and Pillows: Everyday History with Greg Jenner
You can distribute a recording of a Q&A, but always embed it into a written blog too, that way people can access and share your work in different ways. I read a lot of Q&A-type posts and within these posts, there are three things that matter to me
Is it conversational and natural?
Is it presented in an easy-to-read format?
Does it reveal something unexpected, funny, deep, or emotive that I didn't know?
A Resources or Best Of List
These are classic posts people enjoy as they help them cut through the noise to find the best tips, help them plan better, and show them either what they've been missing or what they might enjoy next. Here are a few suggestions for who you could aim your blog post:
Readers of history books or blogs – kindles, page markers, best blogs, bestsellers
Bloggers and writers – blogging platforms. note-taking apps, stationery, cute pens and notebooks
Visitors to historic outdoor sites – backpacks, cheap train tickets, discount sites, walking boots, travel notepads, photo-taking apps, best places to take photos, and the best time to go
Visitors to museums – parking, what's on or last chance to see, getting there, what to take, cafe or eating tips.
Killer Headlines
All of the five types above need killer headlines, which is why I've left this type until last. Imagine if these were the titles for each one. Would you click through?
My Q&A with Greg Jenner
Bridgerton Season Three
Here are 5 notepads for your blog
My view on the Princes in the Tower
A list of Period dramas for this year
If you would like some more help with creating headlines try my post. Want irresistibly clickable posts? Try these 6 types of history blog titles