Choosing the Best Plugins for Your WordPress History Blog
Here at Smart History Blogging, I try out a lot of WordPress plugins for various reasons. Speeding up the website, providing my social media links, site security. Some plugins are excellent and work exactly as I expect. Sometimes not so much. There are currently 57,209 plugins in the WordPress directory but not all plugins are created equally. So to save you time building your own WordPress History Blog here's a list of my top 10 free WordPress plugins that are essential for history bloggers. Plus three useful bonus plugins!
As with all WordPress plugins bear in mind it's compatibility with your theme and how often it's updated, as well as whether the developers provide troubleshooting and support. All of the following plugins have free options but can also be upgraded with paid options.
Full Disclosure
Some of the links on this page are affiliate links. This means if you purchase a product through one of our links I will receive a commission. This commission comes at no additional cost to you. Please do not spend any money on these products unless you feel you need them or that they will help you achieve your goals. Read the full disclosure page for more information.
How do I get started with WordPress?
If you're looking into a WordPress website and need hosting then I recommend BlueHost. One of the most affordable hosts out there and it comes with a 1-click WordPress install. Also comes with a 30-day money-back guarantee and 24/7 support. Take a look at the options.
---
My Top 10+ Free WordPress Plugins That Are Essential for History Bloggers
1. Yoast
So it goes without saying really that Yoast is still the best free SEO management tool for your website. There's a good reason it's so popular. It walks you through the SEO steps, breaking them all down into a handy traffic light system that lets you know how effective your SEO strategy is. Combined with your own keyword research this plugin is the number one tool for generating traffic. So even if SEO is still a bit of a mystery Yoast can make it easier to manage.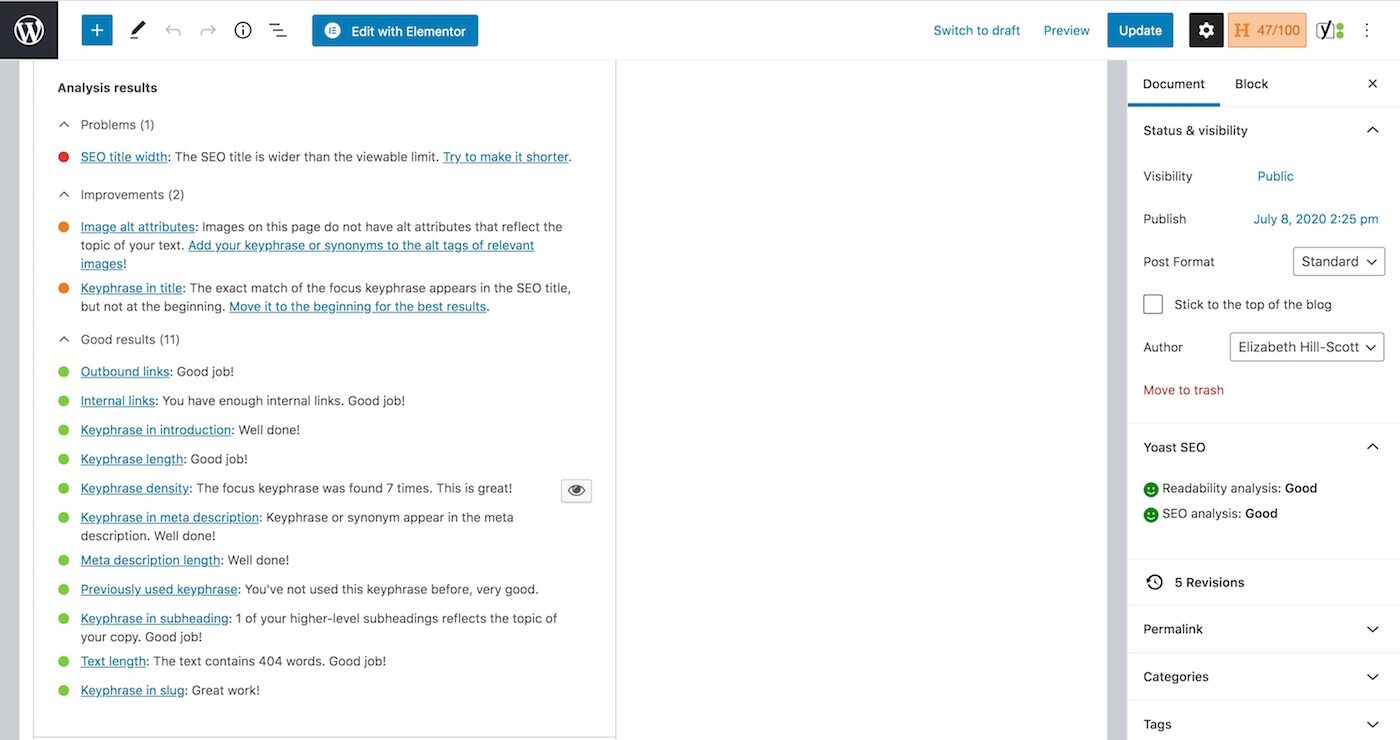 ---
2. Elementor
Probably one of the first things you should install when starting your WordPress website is Elementor. It's a drag and drop page building tool and works much like building a site in Squarespace or Wix. It plays well with others and is compatible with almost all of the big players in the plugin directory as well as thousands of themes. Plus it even works with Gutenberg. With an extensive catalogue of third-party add-ons you'll be able to find the tools you need to build your site exactly as you want it.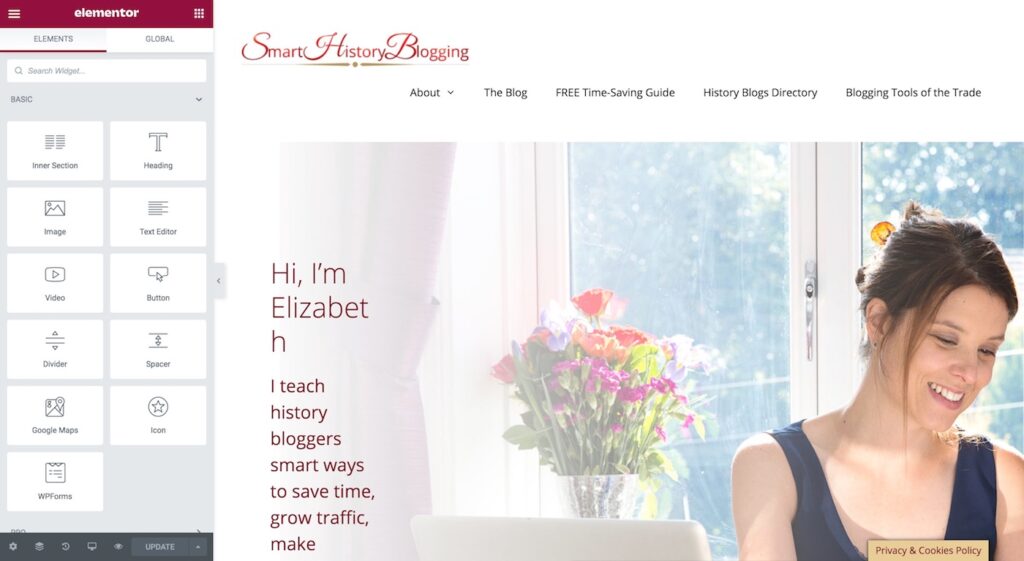 ---
3. Updraft Plus
You've just put the finishing touches on a new page on your website, you go to check the preview and….oh no! Something's gone wrong and there are huge gaps and bits of stray code littering the page. But what went wrong? The plugin update? That line of code you put in? Is Elementor having a wobble? It's anyone's guess but you'll end up backtracking through your last four hours of work trying to find out. No one has the time (or patience) for that. So a backup plugin like Updraft Plus is invaluable to go back to the time before when your website didn't look like something made on AngelFire in 1997. It also features an option to set automatic backups and saves to multiple cloud storage options like GoogleDrive meaning your website should be safe in any eventuality.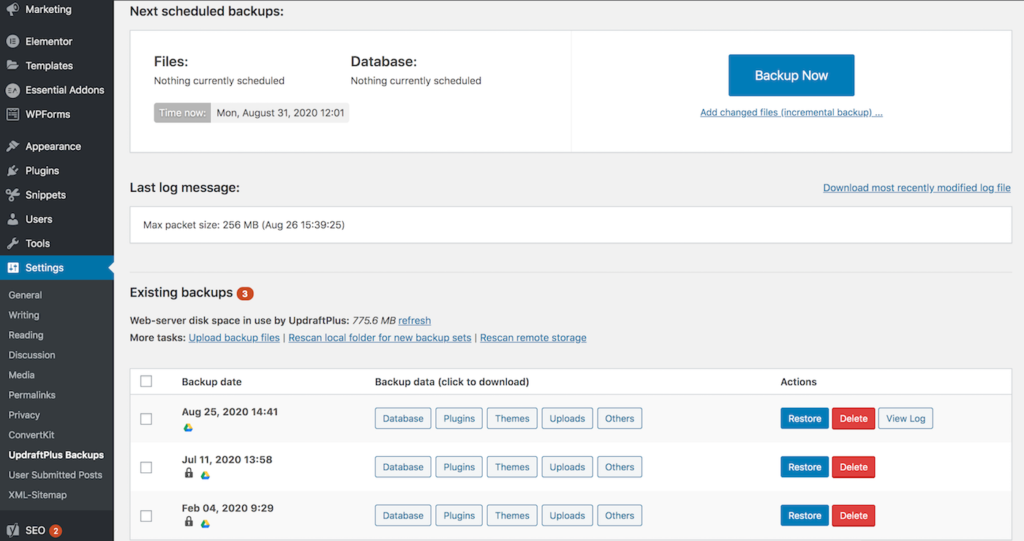 ---
4. ConvertKit
Do you have a ConvertKit account? If you don't it's a brilliant tool for managing your marketing and sales tools with email sign up forms, custom landing pages, product promotion tools, analytics, automated email sequences, and more. The WordPress plugin allows you to embed shortcodes from your ConvertKit forms almost anywhere across your website. You can drop them into posts or via widgets allowing you to strategically place your sign up forms throughout your website. This plugin only works with your ConvertKit account but if you'd like to try it out for your first 1000 subscribers you can do so here.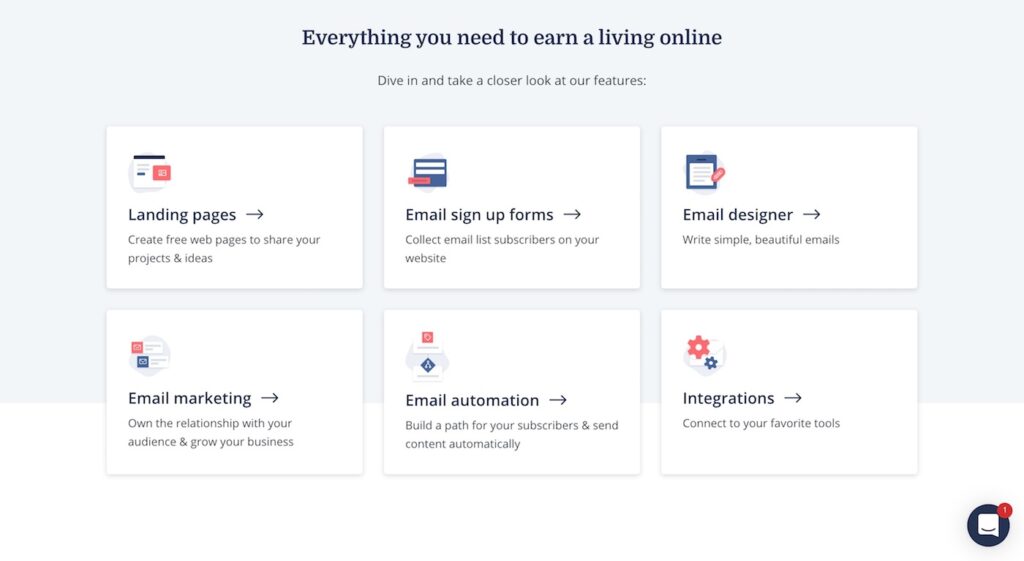 ---
5. Wordfence Security
As of writing this blog post, Wordfence has blocked 3,933,908,128 attacks in 30 days. Which kind of speaks for itself really. They're currently the leading WordPress security plugin with over 150 million downloads.
What does that mean for you though? Well, while most website security is done via the cloud, with data going to the companies server, Wordfence utilizes an endpoint firewall and runs on the actual server it's protecting. So between the 3 million active downloads providing crucial data, it's endpoint firewall, and the ability to tackle malware as well as hackers it's become one of the most downloaded plugins on WordPress. It's simple to use and set up and will alert you to any site problems via email. But you can also configure Wordfence to send an alert via SMS in case of a critical issue.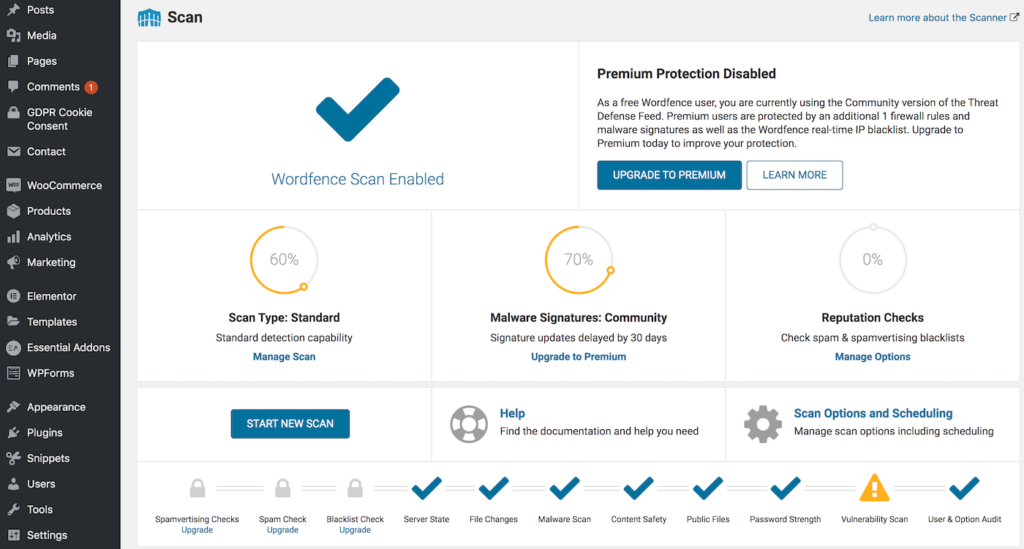 ---
Related Link: See Our Blogging Tools To Grow Your History Blog
---
6. Ultimate Social Media
We all know social media is a vital part of building your audience. And how you show them on your website matters. Ultimate Social Media, a free plugin from Ultimately Social, has bags of options for displaying your icons. No coding required. There's a list of 22 free icon styles which you can adjust the size and placement of, an option for a social media pop up, and a simple subscription form. The icons can be placed with shortcode, full html code, or via widget so you can display them practically anywhere.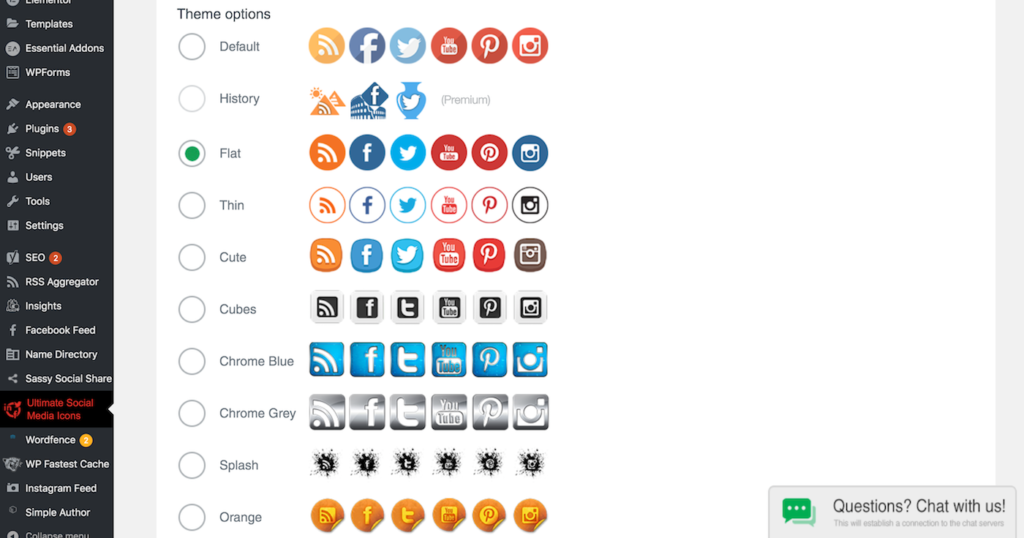 ---
7. Smash Balloon
So technically Smash Balloon is a whole group of plugins that provides customisable feed widgets for your Facebook, Instagram, Twitter and Youtube social feeds. The feeds help your readers connect with you on the biggest social media platforms and see all your latest posts. Over 1 million active users, looks good on all devices, and has excellent and speedy customer support.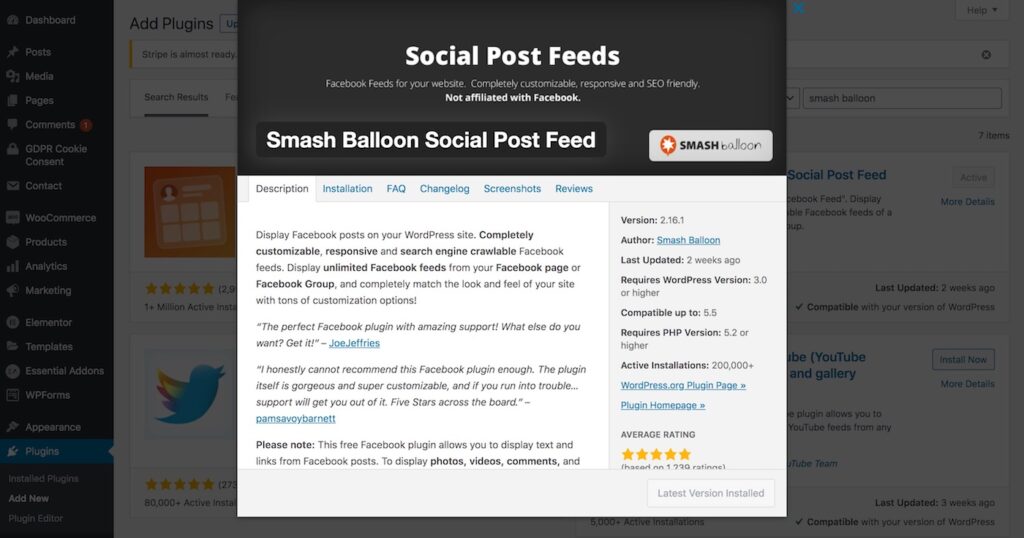 ---
8. Smush
Images can make all the difference in your blog posts. Not only by making them visually appealing but also to help illustrate or explain key points. However large, high-quality images take up a lot of space and affect the load time of your website. Often when a website loads slowly someone will click away from the site to find the information somewhere else. Smush works by compressing your images site-wide to speed up your website's loading times. Plus it can also auto compress your images for you whenever you upload to the media library.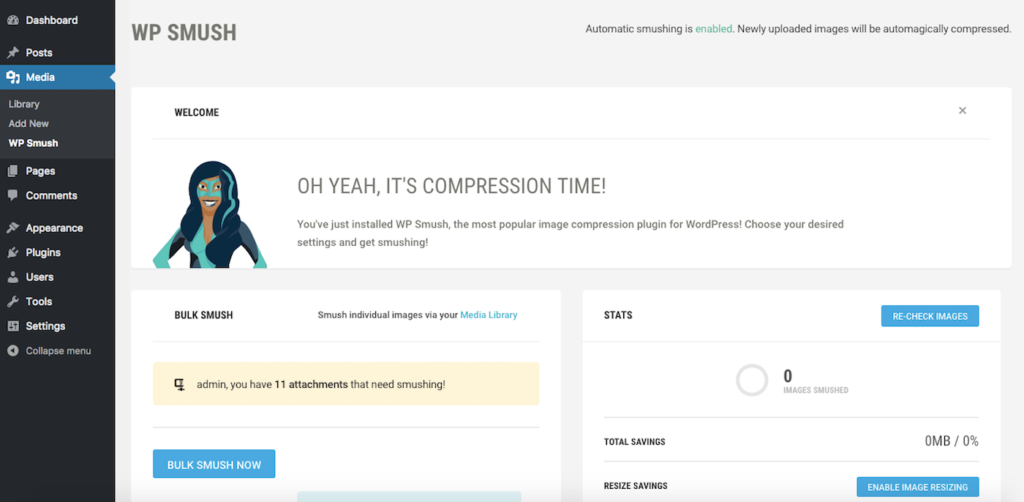 ---
9. Google XML Sitemap
It might not be your first thought when creating your WordPress website but when it comes to SEO a sitemap is a vital tool to help search engines like Google crawl your website. Being able to see the structure of the site can help push you up the Google results. Google XML SiteMap works automatically at the push of a button. Making it one of the best free WordPress plugins. Combined with the tools on the Google Search Console they're powerful tools to enhance your website's overall SEO and visibility.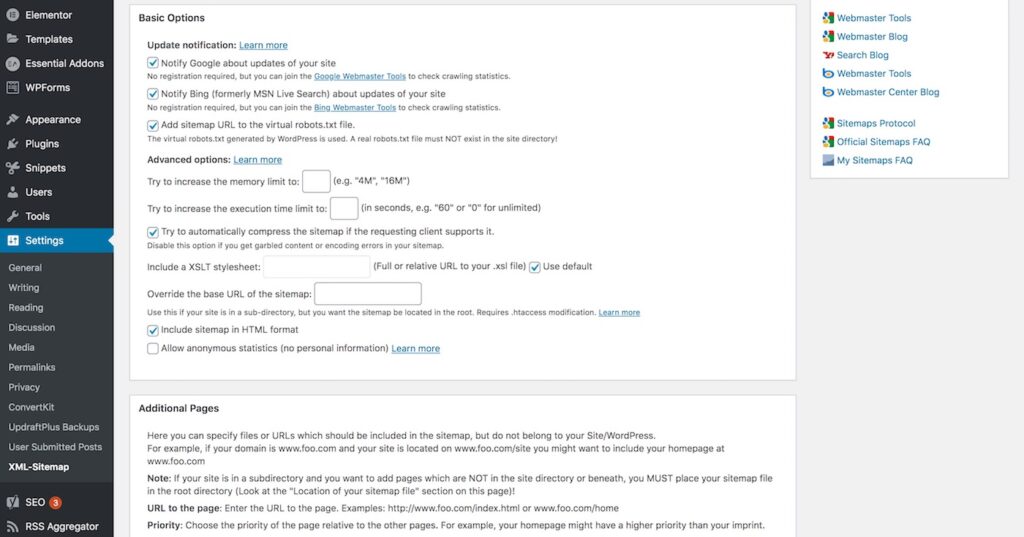 ---
10. Monster Insights
Monster Insights links up with your Google Analytics to provide you with the best data and most important stats. It's easy to understand dashboard tracks everything from affiliate ads to real-time user stats to bounce rates and e-commerce tracking. It does everything, which is probably why it's top pick for WordPress users when it comes to analytics.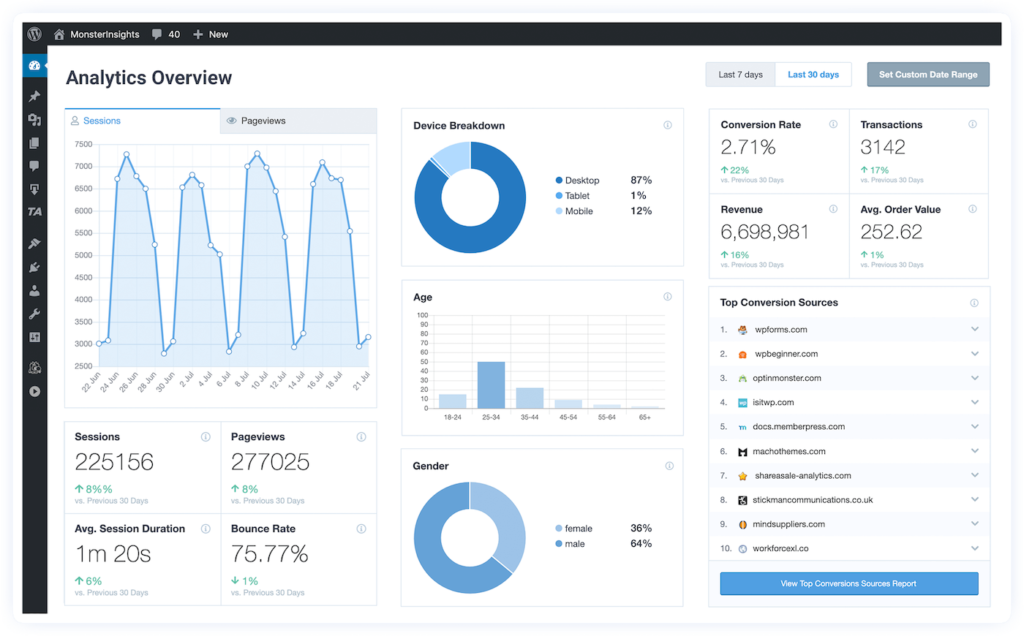 ---
BONUS PLUGINS
Sometimes it's the little plugins that can make life easier. So here's a couple of bonus plugins that are designed to make small, but super useful, changes.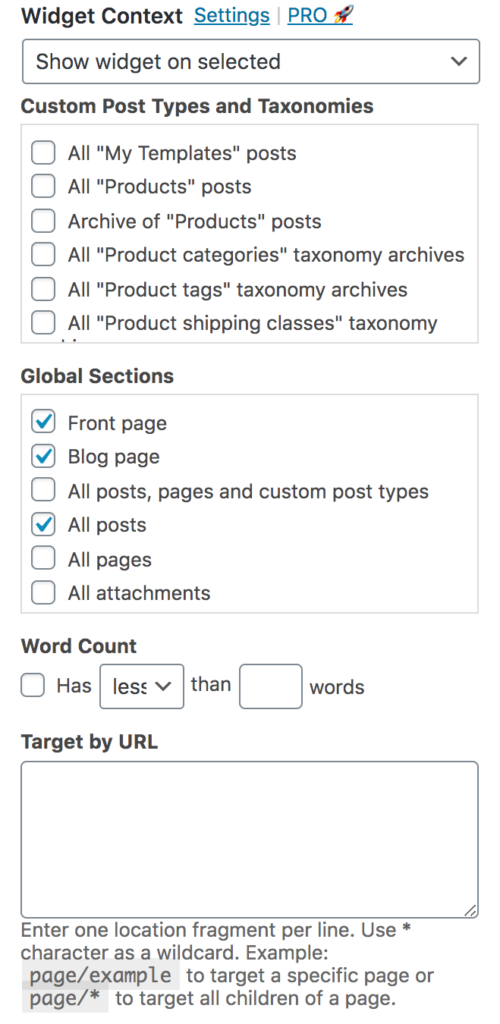 Widget Context
Need to turn a widget off on a couple of pages? Need a widget to only display on your homepage and blog posts but nowhere else? Widget Context allows you to quickly turn widgets on and off as needed.
Simple Author Box
Simple Author Box by WebFactory Ltd is a fully customisable author box for your blog posts which shows your author name, image, bio, and social media links.
Seed Prod Coming Soon Page
A simple to use site maintenance and coming soon plugin. Seed Prod works with all WordPress themes and can be set up in a matter of minutes. So you can put your site in "maintenance mode" for your visitors while you work on development.