Do you sometimes feel overwhelmed with the amount you need to get done? Do you have notes floating around everywhere? Are there multiple documents with various bits of text lost in the labyrinth of folders on your desktop? Yep. Me too. So when I stumbled on Trello I thought I'd give it a go and see if it could help me reorganise and streamline my workload. If you've not used a workflow tool before here's a quick look at how you can organise your blog with Trello.
What is Trello?
Trello is a collaboration tool that organizes your projects into boards. In one glance, Trello tells you what's being worked on, who's working on what, and where something is in a process. Imagine a white board, filled with lists of sticky notes, with each note as a task for you and your team. … That's Trello!

From Trello.com
It's essentially Kanban 看板 (signboard or billboard in Japanese) created by Toyota Industrial engineer Taiichi Ohno to speed up and identify bottlenecks in production and improve manufacturing.
Kanban is used widely in industries like software development to help maintain good workflow and complete tasks.
Trello takes inspiration from Kanban to provide a platform where you can visualise your work and organise them into fully customisable cards. The added benefit is you can share these boards with others if you need to. Just like Kanban.
How Will It Help Me?
It's an online lite version of a more complex project management tool. Although it's designed for teams you can use it for just yourself especially if you're a more visual learner.
Trello currently has three pricing tiers: Free, Business Class and Enterprise.
The free tier requires an email sign-up and gives you access to an unlimited number of boards, lists, cards, checklists and attachments. You can also invite as many people to your board as you like to share your boards. The phone app is also included in the free tier so you'll be able to access your boards and add to them on the go as well as at your desk. Basically, you're getting everything you need to use Trello without having to pay a penny.
Trello Gold is an upgrade for individual users and provides access to board backgrounds, stickers and custom emojis. You can also access power-ups which are apps and third-party integrations. 250mb attachment limit as opposed to the 10mb one on the free version.
Business Class provides you with unlimited access to Power-Ups like advanced checklists, custom fields, list limits, card repeater, calendar and map views, voting and 100+ app integrations. It also gives you access to Butler, a powerful workflow automation tool.
Enterprise is designed for much larger teams of over 100. It offers all the perks of business class but, because of the number of users, adds extra security features. As well as priority support and full control of your team members access, restrictions and uploads.
How Does It Work?
Trello boards have four components: Boards, Lists, Cards and the Menu.

Boards are the overview of your tasks and notes. Think of a board like you would a pin board where everything is collected together.
Lists are where you keep your cards organised. You can call these whatever you like but a basic set up might be To Do, Doing and Done.
Cards represent tasks or ideas, these could be things like write this weeks blog post or wash socks. Cards can be customized to hold a wide variety of useful information by clicking on them. Drag and drop cards across your lists to track your progress. There's no limit to the number of cards you can add to a board.
The Menu is where you can add another Trello member to the board, add coloured labels, add a checklist, add a due date, upload an image and more.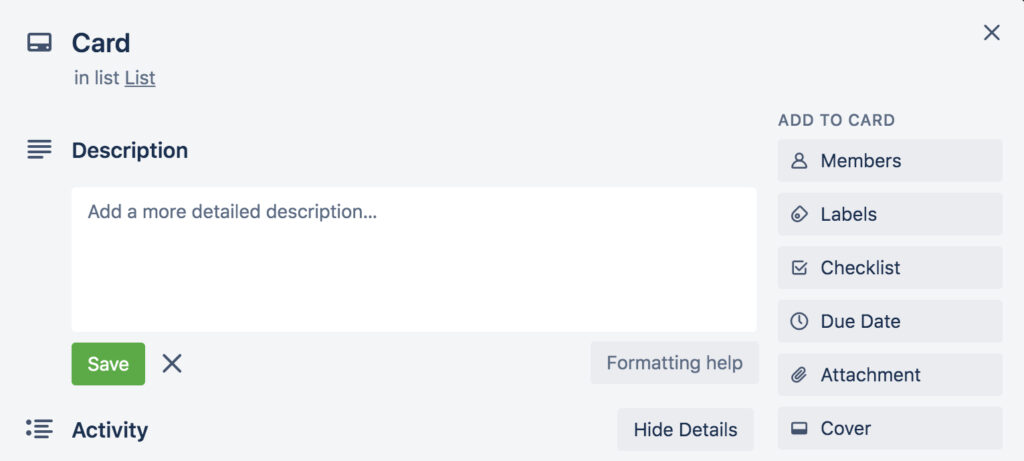 Another useful tool is the Label system. Labels are colour coded tags that help you prioritise tasks, adding an extra organisational element to your boards. Colour labels also have a great colour blind mode which adds patterns to each of the labels.
If you're stuck for how to arrange your boards or want to get started quickly then templates are available for many different types of boards including things like wedding planning, exercise routines, order fulfilment etc.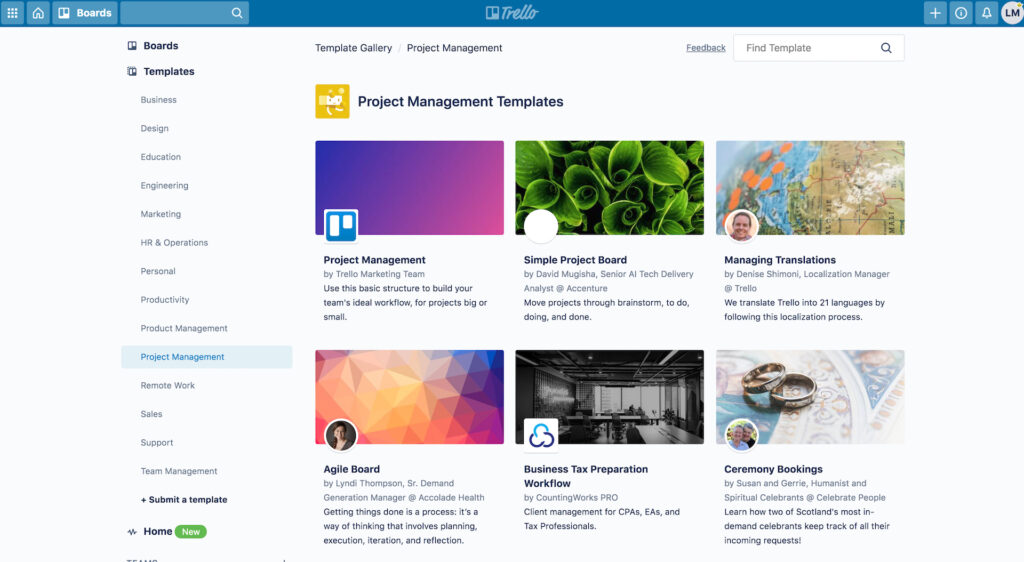 Here's some templates dedicated to organising your history blog for you to try:
Blog Content Schedule – The scheduled pipeline of all upcoming content for your blog. Plan content, assign to authors and manage the editing & publishing of a post.
Blogging Workflow – The blogging workflow outlines the step-by-step process from content outline to publication. It covers in-between processes like graphics creation, video creation, and scheduling. In addition, I love that this blog workflow provides an easy-to-follow structure to my blog process.
Editorial Calendar – Seamlessly coordinate content creation, editing, and production with internal and external authors, while keeping an eye on the publishing calendar and distribution strategy.
Blog Launch Plan – Provide a structure in launching your blog. It shows the steps and important items that you should have or that you need to execute at every stage. The template provides templates to store all important links for easier access during the planning and launching phase. Checklists on content planning, content creation, marketing plan, and actual launching.
What Else Does Trello Offer?
Trello also has Power-Ups (apps) that enhance your boards with third-party integrations. So if you have a Dropbox, use Google Drive, Slack, Evernote, Adobe XD or other programs you'll be able to connect them with your boards. There's also Power-Ups within Trello to improve the user interface on the boards and cards. With the free version of Trello you'll have access to one free Power-Up, which you can change at any time for another one so have a look around and find one that helps your workflow.
Adding other users to your boards, whether it's clients or co-workers can also enhance your workflow. You can share tasks via email, watch cards to check progress, leave comments and add due dates so everyone knows the timescale.
So How Do I Organise My History Blog With Trello?
With all of these great features there's a lot to choose from when setting up your boards, so I've put together an example to show you how you could organise your blog content: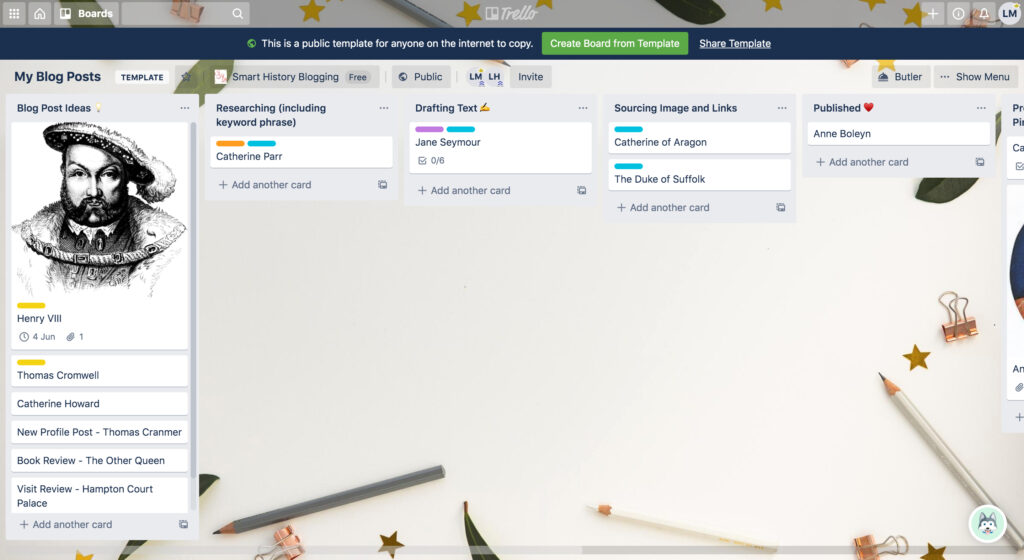 You could even use the checklists to track your tasks as you work through them: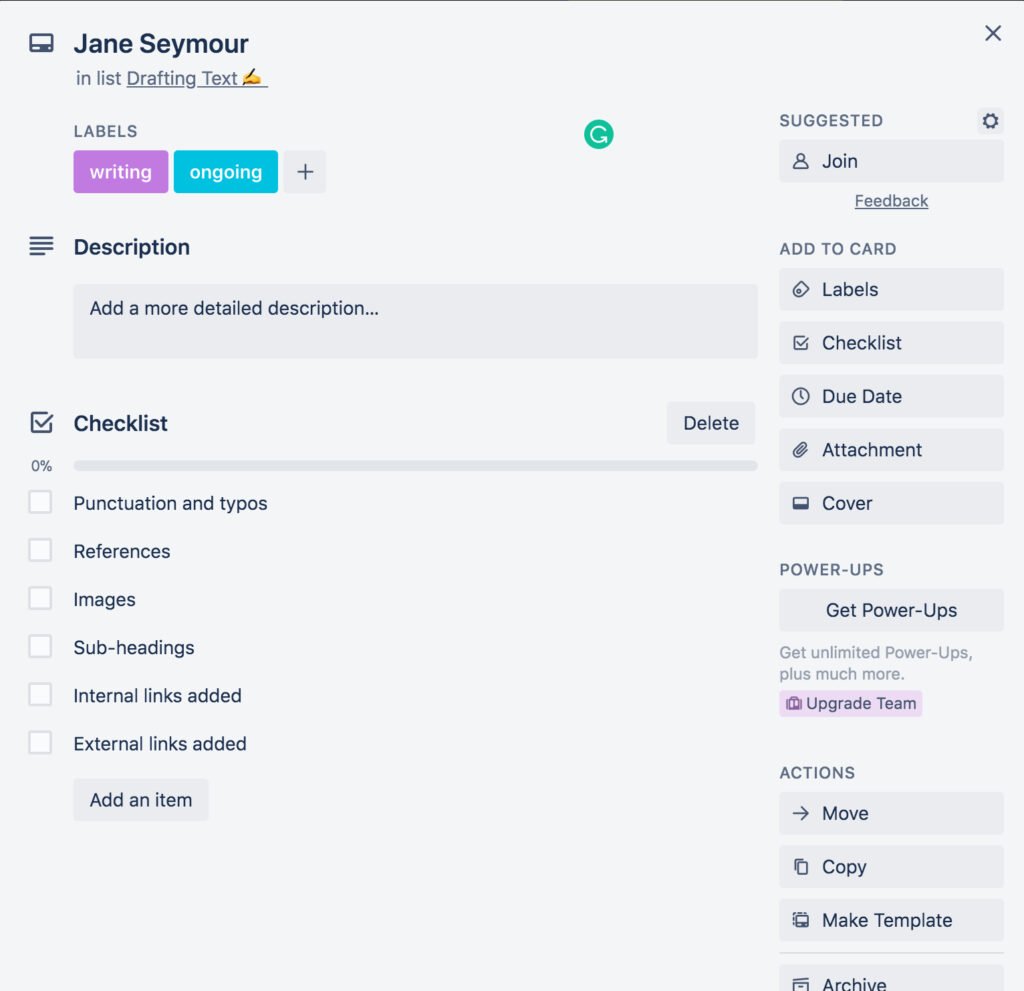 Conclusion
Trello is a powerful workflow tool that's generous with its free account offerings. It's user friendly, intuitive and endlessly customisable. There are templates, third-party integrations and plenty of guides on their website to help you get started and set up your boards. Whatever you need it for, whether it's to keep track of your notes for that important blog post or to remind you to buy milk it can help organise your life and reduce stress.
Need some ideas for your Trello cards? Our posts on Setting Your Goals and What To Do Before And After Each Brilliant Blog Post can help you fill them in.